WHAT WILL YOU GAIN FROM
THE SALES HUNTER UNIVERSITY?
The Sales Hunter University is relevant sales training available in real-time or on-demand, so you can learn on any screen at any time. It was recently named as a Top 10 Sales Development Program in 2022.
The Sales Hunter University is perfect for sales teams, managers, or driven individuals. Each course is carefully crafted by Mark Hunter, The Sales Hunter, so you'll see the results you've always wanted to achieve.

WHICH OPTION IS RIGHT FOR YOUR GOALS?

"We measured the results and found the 200 new hires Mark trained were outpacing our existing team 3:1!"
Executive Leader, Lenovo

KEEP SCROLLING TO SEE WHAT AN
ALL ACCESS MEMBERSHIP INCLUDES
(Warning: you might get tired of scrolling... that's how much is included)

THE SALES HUNTER MASTERCLASSES
Our most popular product with sales teams, individual salespeople, and executive leaders!
Available a la carte or included in an All Access membership, each monthly masterclass focuses on a relevant topic in sales right now.
Each class includes a series of interactive videos, a downloadable workbook, and more.


SALES TRAINING FOR UNDER $2 A DAY.


Use your pocket change to create noticeable changes in your sales career. Get premium content used by salespeople worldwide.
"Mark Hunter shares his secrets for improving your outcome so you can improve your income."
Gerhard Gschwandtner, Selling Power Magazine

PARTNER MASTERCLASSES
Get to know other subject matter experts in the sales space!
You may know me for prospecting and mindset, but do you know LinkedIn expert, Brynne Tillman? Cold calling connoisseur, Art Sobczak?
Available a la carte or included in an All Access membership, each partner masterclass packs a punch and dives deep into important sales skills with my brilliant friends in sales.
Each class includes a series of interactive videos, a downloadable workbook, and more. Check back monthly for new additions!


"I used one of your techniques and have an appointment lined up this afternoon!"
John Rubio, DC

STARTER KITS
Dive into one of my masterclass topics for a fraction of the price.
You asked, we listened - starter kits are here!
Whether you're new to sales or a seasoned leader, our bundles of TSHU's most popular courses will deliver on success planning, prospecting, and expert training.
Available a la carte or included in an All Access membership at no extra cost.

EVERYTHING I HAVE TO OFFER–DECADES
OF CONTENT–IN ONE PACKAGE.


Unlock your full potential. Sales training for under $2 a day when you pay annually!



"Your classes and videos are making a difference in my business. I rate your work A+."
Small Business Owner

PROSPECTING AND NEGOTIATION
VIDEO TRAINING LIBRARIES
54 videos, quizzes, and documents on prospecting. 43 videos, quizzes, and documents on negotiation.
All Access members receive exclusive access to Mark Hunter's growing video libraries that are tailored to motivate
you and supercharge your performance no matter what level of sales experience you have!
HEY, DO YOU LEAD A SALES TEAM?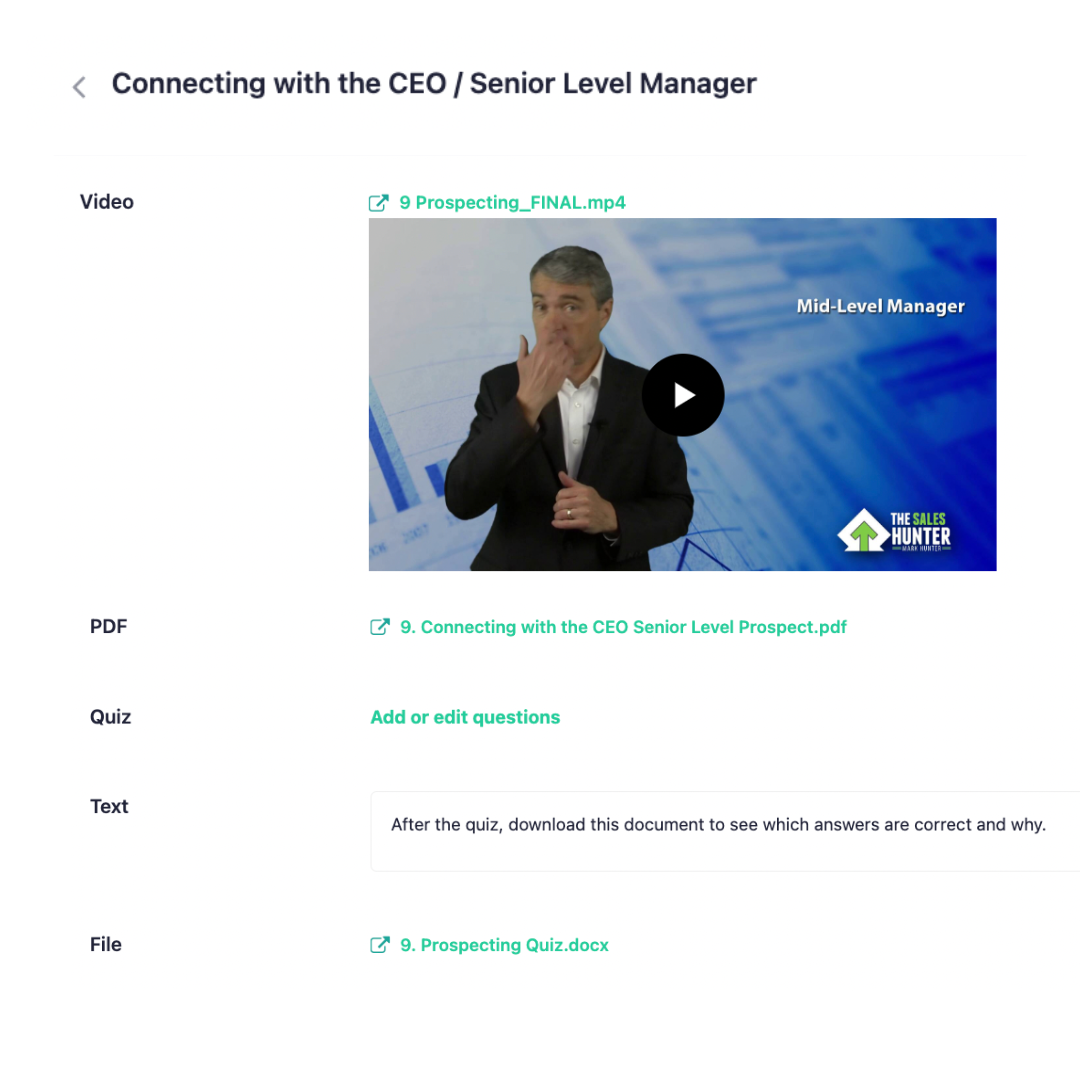 Prospecting Video Training Library

In this complete, detailed video training on prospecting, I'll guide you through the specifics of...
social media prospecting
earning quality referrals
finding your dream prospects
staying motivated
trade show prospecting
reaching senior level people
...and much more!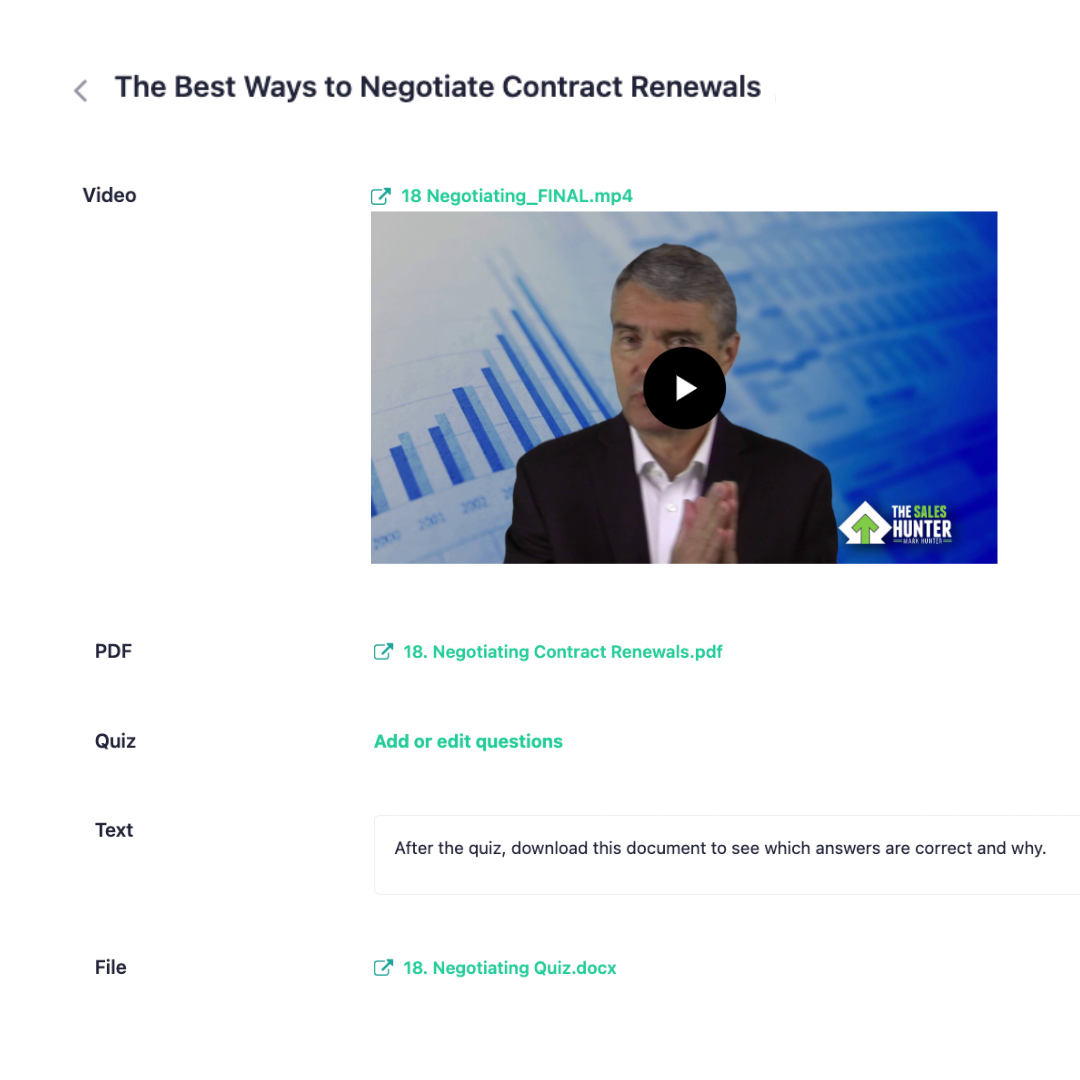 Negotiation Video Training Library

Close the deal at the right price every time. This extensive library was carefully curated to build confidence in...
keeping negotiations on track
getting in customers' minds
identifying and using stall tactics
negotiating RFPs
maintaining integrity
email, phone, and voicemail negotiation
...and hours more of content.

TWICE MONTHLY Q&A COACHING SESSIONS
All Access members experience Mark Hunter Live opportunities each month through Q&A coaching webinars.
Mark Hunter answers your burning questions with quick, easy-to-process videos. Join fellow masterminds for answers regarding topics ranging from pricing to goal setting to customer relations.
Can't join live? No sweat - over 70 on-demand sessions are ready for you to review!

"If all you do is implement a portion of what you learn, you will still generate more business. So stop reading the endorsements and dig in!"
Jim Cathcart, Author of Relationship Selling

UNLIMITED, ON-DEMAND VAULT OF SALES TRAINING
Previously named "Level 2 - Sales Vault," All Access members can level up their careers through our constantly evolving library of hard-hitting videos, documents, and guides.
Quickly scale your sales success by receiving access to 100s of video clips packed full of sales tips, tricks, and advice from The Sales Hunter.

ALL ACCESS IS THE BEST INVESTMENT YOU CAN MAKE FOR THE ULTIMATE SALES TRANSFORMATION.

"Mark Hunter is a world-class sales professional. The information he shares with audiences reflects his many years of applying his successful sales practices."
Business Networking Guru

BRING VALUE TO YOUR CUSTOMERS, NETWORK, AND TEAM.


Receive on-demand and real-time sales training immediately.